I firmly believe that 'a picture is worth a thousand words', and this is something you should keep in mind when designing a website. You need to choose the right images to represent your brand and what you are selling, you need to appeal to those ideal clients, and you need to think about the quality of your images too.
This is a picture that tells a story.
One of my favourite pictures from the internet ever.
Why is it important to choose the right images for your website
The importance of images within the website design comes from our human ability to process images. Studies have even found that the human brain will process images 60,000 faster than text.
Studies have also shown that we're actually not that great at reading the words on a page. This one showed that most people will only read 20-28% of the words on a web page – woo, we're lazy!
Your website should function as an amazing salesperson and calling card for your business, and it should promote your product or services in the best possible way.
Here are the benefits that the right images will bring to your website design.
A more memorable website
It's usually easier to remember the visual elements of a website than it is to remember all of the content. Because we are visual creatures we tend to pick up on visual cues without even being consciously aware of it.
Images can help SEO
In the US google image searches account for 26.79% of all searches. So, if you can make it so that your website images appear for relevant google searches then you might gain some click-through to your website.
Here are a few quick tips for on-page image SEO.
Name your image files with the keywords of the page they are going to appear on.
Include your keywords in your images 'alt' description as well.
Optimise your image sizes, to ensure they don't slow down your site and negatively affect your SEO.
You can find out even more about using images for SEO from this Yoast article.
Create the right feeling
By using the right imagery on your website you can create the right atmosphere and feeling for your brand. You can use your images to really resonate with your target audience, ensuring that you're not just memorable, you're also trustworthy and likeable.
Humans are visual creatures
Images and a good design can help retain our attention spans as we read through a web page. We like to see things that look good, and there is evidence to suggest that images of people can even boost conversion and build trust.
There is still some debate around whether or not a photo of a happy person will compel us to buy, but this article covers everything in great detail.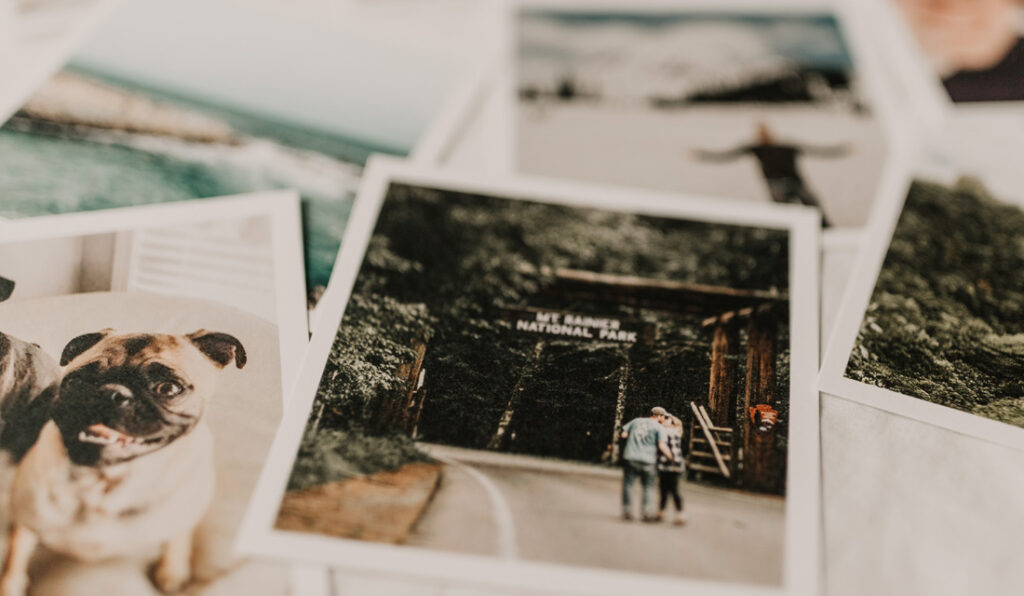 Choosing the right images for your website
It may seam obvious, it may seam easy, but that's not always the case. You should choose the right images for your website carefully, so that you convey the right visual story for your brand and website.
Copyright
Not everyone knows this, but you can't just use any image that you find online. You need to obtain permission. Luckily someone else has put together a list of some of the best free stock photo websites around at the moment: https://chrisgeldof.com/best-free-stock-photo-sites/
Quality
The quality of the images that you use is incredibly important. A low quality selection of images can give off a negative impression of your website and your brand – you might come across as unprofessional and untrustworthy.
Choose images that are high in quality. Those that are crisp and not pixelated. Those that are bright and not dreary. And then, make sure those images are optimised to reduce the size but maintain quality.
Relevance to brand and business
It's important that you choose images that represent your brand and business, otherwise, you might just confuse website visitors. Don't just throw something in for the sake of it. Does this picture of Mr Blobby really say anything about your brand, or do you just love Mr Blobby?
Eye-catching
Yes, you want your images to be interesting. You want to maintain a visitors attention as they scroll through your website.
I feel so emotional baby
Images that capture an emotion, even they are abstract, can work amazingly. If you can sell the feeling of working with you or using your product, through your website's images, this can leave an impact on the user. If your website is just pictures of products you might not resonate with your ideal client or customer.
So, that's why choosing images for your website is important!
I think images can play a huge role in how your website is viewed by potential clients/customers and people browsing your site. They can definitely make or break your website design.
That being said, there are many minimalist website designs that focus heavily on typography that include few or no images on them. These website's can still work wonderfully, but if you are going to use images you should use the right images in the right way!
Thanks for reading.