Many websites will use at least one form of tracking to see how many visitors come to their website and other interesting bits of data.
The most common tracking platform is Google Analytics. It's important to ensure that the data you are tracking is accurate to represent how potential customers and visitors use your website.
Google Analytics is a free way to track users of your website. You can see data like the visitor count, amount of time spent on the site, the percentage of users that visited on mobile or desktop, the general location of visitors and much more.
According to builtwith.com 62.28% of the top 1 million websites are using Google Analytics on their site to track data: https://trends.builtwith.com/analytics/Google-Analytics
You can do a great deal with Google Analytics, and Google even offers free courses to show you the ropes and get you up to speed with this software.
Making your Google Analytics data more accurate.
When looking at the data from your website traffic it is important that what you are looking at is real customer data and not data from web bots or yourself and your colleagues.
So, we will quickly go through how to remove the most known bots and yourself from your Google Analytics data.
Removing bots from Google Analytics
Amazingly, Google Analytics now has a feature where you can easily exclude all known bots from the IAC/ABC International Spiders & bots list, which has been maintained by the US advertising bureau since 2006.
This list is pretty extensive but it doesn't cover all bots and spam traffic, just those that are known. It's still a great place to start with cleaning up your data.
What is a spider?
A spider is a cute name for a programme that visits websites to go through their pages.
Spiders, which are sometimes called 'crawlers' are often used to help search engines create an index of the web for their search results. Google uses spiders, as many of the other major search engines across the world.
What is a bot?
Bot traffic on a website simply means non-human traffic – so, a bot is not a human but a piece of software designed to run an automated task. The spiders mentioned above are bots but there many types of bots, including those that are 'bad'.
There are statistics that show that up to 40% of website traffic is non-human and comes from both the good variety of bots and the bad variety. This article goes over a few stats about bots and their web traffic.
Now, by filtering your traffic using the list of known bots you will not be able to know which bots have visited your website, nor will you be able to filter just particular bots. It just filters out all the known ones, which is really what you want for accurate data.
Here's how you filter out known bots:
Step 1: Click on to the admin section of Google Analytics
Step 2: Click on to view settings, within the view category
Step 3: Scroll down in this section and tick 'exclude all hits from known bots and spiders'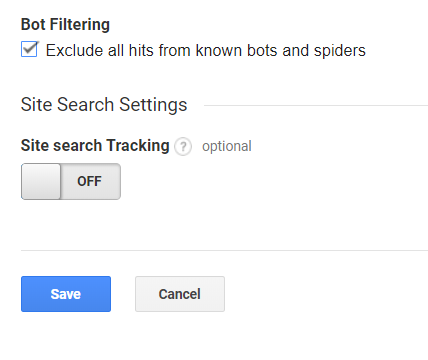 Step 4: Save!
It's important to note a few things for once you have removed bot traffic from your website:
You will likely see a drop in your traffic. Don't be alarmed by this because the data you now receive will be more accurate and reflect real visitors to your site. This way you can use this data correctly.
The bot filter will only be applied from once it has been set – and usually will come in to effect around 24 hours after setting it. The filter cannot be applied to old data, only new data coming in. So, again, don't be disheartened by the drop in traffic.
Read more about filters and their limitations here: https://support.google.com/analytics/answer/1033162?hl=en
Removing yourself and/or your team from your Google Analytics data.
It's incredibly important to remove your own traffic from your website as you're data and time spent on the site is not useful to you.
The same thing applies if you do work in an office where there are many people visiting the website for information, editing it, or just browsing it. This data does not accurately reflect customer data and will skew the useful data that is in analytics.
Removing yourself from google analytics data with an IP address.
Your IP address is a way for your connection to the internet to be identified. It stands for 'internet protocol address', and it's a little bit like your street name and house number because it signifies your location when you have connected your computer to the internet.
So, if you work from home, or from the same work location, then you will work from the same internet connection and IP address. Excluding this IP address within Google Analytics will then exclude all the traffic that comes from your computer, or mobile device, making your data more accurate.
Here's how you do it
Step 1: Find out your IP address by googling 'what is my IP address', and keep this tab open in your browser. We will come back to this!
Step 2: Go to the admin section within Google Analytics
Step 3: Click on to the filters section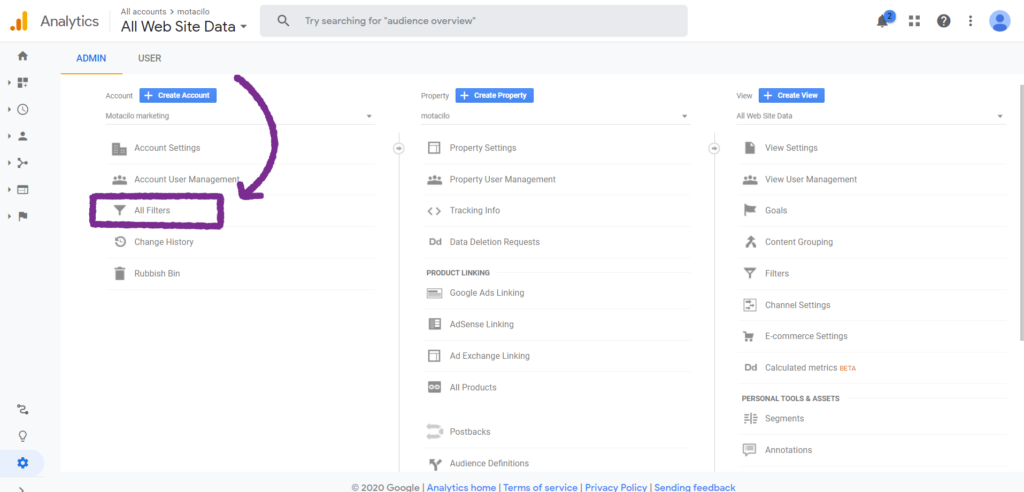 Step 4: Click to add a new filter
Step 5: Name the filter. Click the filter type to be predefined.
Step 6 – Set the filter type to EXCLUDE. Choose 'traffic from the IP addresses' from the source dropdown.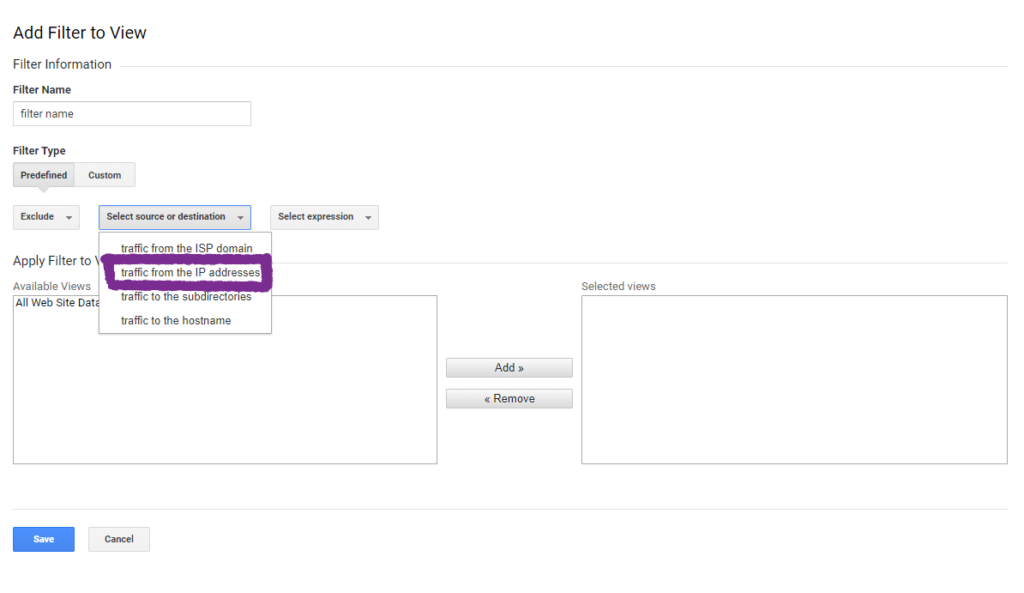 Step 7: Select the expression from the dropdown to be 'THAT ARE EQUAL TO'
Step 8: Copy and paste your IP address from your Google search into the IP address box
Step 9: Click save!
From saving this, in around 24 hours your Google Analytics will stop showing traffic to the site from this IP address. If you have people working in an office from the same IP address this will also exclude them from any analytics as well.
So, there you are.
How to make your Google Analytics more accurate
In just 10 minutes you can make your Google Analytics data much more accurate. If you are interested in taking this even further this in-depth article from MOZ goes over a huge amount of ways you can filter your data to remove junk traffic.
Thanks for reading, I hope that you've found this content useful. Remember to get in touch with me at Motacilo if you need any help with your website.